When we look back at history, we see the things and events that make us who we are today.  These photos do just that.  It's hard to believe just how far we've come in such a short time (relatively speaking).
Some of these a funny and others are a little disheartening.  Still, they are reminders of our past and worth looking at for that reason alone.
Melted and damaged mannequins after a fire at Madam Tussaud's Wax Museum in London, 1930
Princeton students after a freshman vs. sophomores snowball fight in 1893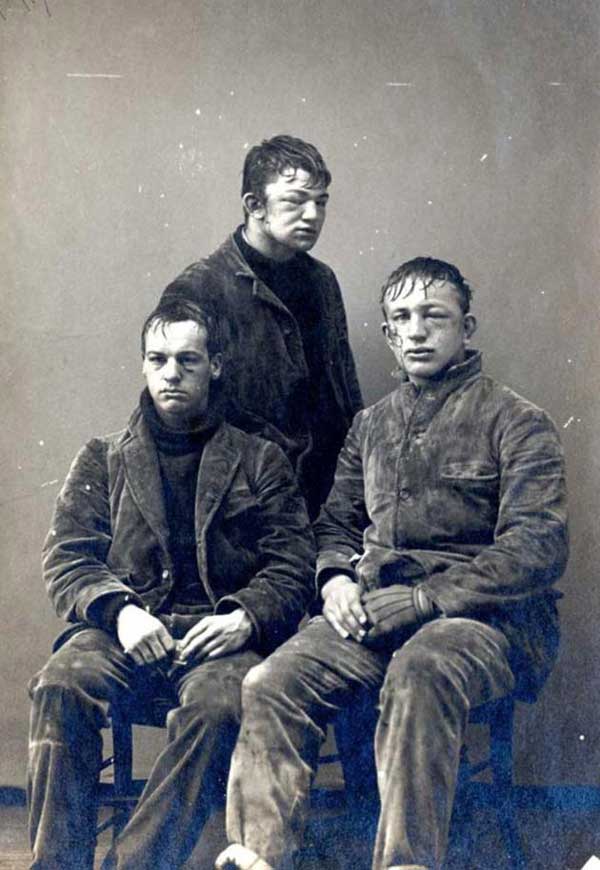 Walter Yeo, one of the first people to undergo advanced plastic surgery & a skin transplant.
Martin Luther King Jr. with his son by his side removing a burnt cross from his front yard, 1960
Annette Kellerman promoted women's right to wear a fitted one-piece bathing suit, 1907… She was arrested for indecency.
A penniless mother hides her face in shame after putting her children up for sale, Chicago, 1948
A mom and her son watch the mushroom cloud after an atomic test 75 miles away, Las Vegas, 1953
Abraham Lincoln's hearse, 1865
The real Winnie the Pooh and Christopher Robin, ca. 1927
Children eating their Christmas dinner during the Great Depression: turnips and cabbage
Hitler's officers and cadets celebrating Christmas, 1941
Animals being used as a part of medical therapy in 1956
Illegal alcohol being poured out during Prohibition, Detroit 1929
Little girl comforting her doll in the ruins of her bomb damaged home, London, 1940
Unknown soldier in Vietnam, 1965
A space chimp poses for the camera after a successful mission to space in 1961
Suntan vending machine, 1949
1920′s lifeguard
Artificial legs, United Kingdom, ca. 1890
Advertisement for Atabrine, an anti-malaria drug. Papua, New Guinea during WWII
Sharing bananas with a goat during the Battle of Saipan, ca. 1944
Annie Edison Taylor (1838-1921), the first person to survive going over Niagara Falls in a barrel in 1901.
Charlie Chaplin in 1916 at the age of 27
The hippo belonged to a circus and apparently enjoyed pulling the cart as a trick 1924
Unpacking the Head of the Statue of Liberty delivered June 17, 1885
I don't know about you, but these photographs sparked emotion from deep within us.  I hope you enjoyed them as much as we did.  Let us know which one is your favorite!